Certificate in Engineering Leadership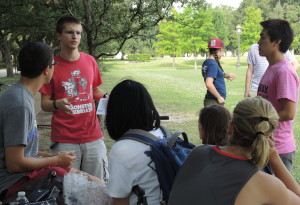 The RCEL Certificate in Engineering Leadership is the only four-year engineering leadership certificate in Texas and one of only a handful of educational innovations like it in the United States. The ultimate goal is to help students begin careers that align with the strengths learned in our program and make a positive difference with their engineering education.
The Certificate in Engineering Leadership is a sequence of courses and a final presentation offered through the Rice Center for Engineering Leadership. The Certificate enhances the traditional undergraduate education by developing skills that are not expressly covered in the Rice Engineering curriculum. The targeted learning experiences provided by the Certificate program are organized around four interrelated competency domains—Personal, Interpersonal, Management, and Leadership. Faculty within the Brown School of Engineering teach courses which cover topics such as leadership styles, engineering ethics, project management, engineering team building, and motivational techniques.
Upon completion of the Certificate's requirements, students receive formal recognition on their transcript and a certificate provided by Rice University's Registrar.
RCEL Certificate Program-Level Learning Outcomes
To develop and articulate a personal point of view about what leadership means and how it is effectively practiced in engineering environments.

To learn how to be valuable team members in engineering environments.

To learn how to be capable team leaders in engineering environments.

To communicate strategically in engineering and other interpersonal contexts.

To increase our students' self-awareness and confidence about who they are and what they are able to achieve in their professional careers.

Our students position themselves for first jobs that align with their unique strengths and self-directed career ambitions.
Should I Join the Program?
The difference between a "really smart" engineer and a "leading engineer" is the ability to create and communicate a shared vision, to build a high performing team, to develop and execute shared plans, and to create innovations that endure. These capabilities are not usually taught in traditional engineering courses. Our certificate will set you apart from other engineers.
If you have dreams of making a difference, and are motivated to learn the skills needed to do so, then this is the program for you. We especially encourage students to work toward earning this certificate if:
You are currently or are a formal leader in a club, college, group project, or other position.
You are currently an "informal" leader or advisor.
You aspire to become a team or organizational leader.
You aspire to become a "thought leader": someone who exercises influence based on their technical expertise.
You aspire to become an entrepreneur or founder of a non-profit.
You aspire to holding elected office one day.