RCEL Develops Leaders in Technology
The difference between a "really smart" engineer and a "leading engineer" is the ability to create and communicate a shared vision, to build a high performing team, to develop and execute shared plans and projects, and to create innovations that endure. These capabilities are not usually taught in traditional engineering courses.  
If you have dreams of making a difference, and are motivated to learn the skills needed to do so, then the Certificate in Engineering Leadership program for you. 
What students say…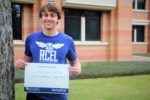 To be quite honest, I joined knowing nothing about the program. Now, I know that it provides a space for me to make mistakes, correct them, and be more successful in my later life/in real world situations. It's invaluable.
What is the RCEL Certificate in Engineering Leadership?
The RCEL Engineering Leadership Certificate is an accredited academic credential aimed at preparing students for their first leadership role after graduation. The multi-year certificate program comprises a series of courses, labs, and RCEL-specific learning experiences that supplement the core curriculum of the School of Engineering. The RCEL Certificate Program allows students to learn fundamentals of engineering leadership, practice their leadership skills while participating in engineering-based hands-on activities, give and receive coaching, and critically reflect on their leadership experiences through a series of structured self-assessments. Read more about the Certificate and the requirements here.
Upon completion of the Certificate's requirements, students receive formal recognition on their transcript and a certificate provided by Rice University's Registrar.  Learn more about the Certificate.
What are the requirements to complete the Certificate?
The RCEL Certificate in Engineering Leadership is comprised of 10 credit hours completed over your four year undergraduate career at Rice.  Courses range from 1 to 3 credit hours and scheduling is flexible (though there is a recommended pathway through the program).  RCEL students are also required to complete an internship of their choosing, as well as a final presentation describing their leadership development throughout the program.  A complete list of requirements, as well as listing of required courses, can be found.
I'm in. What do I do now?