Join the RCEL-Rice Alliance
Spring Break entrepreneurship trek
Wednesday - Saturday, MARCH 1-4, 2017.
APPLICATION DEADLINE:
5:00 P.M. FRIDAY, January 13, 2017.
A limited number of candidates will be accepted to participate.
Students will be notified by February 10, 2016.
RCEL will support up to 12 Rice engineering graduate students and 3 undergraduate students by paying for their conference fee and hotel, and providing $300 toward travel. (Students pay the balance of their travel expenses and some meal expenses.)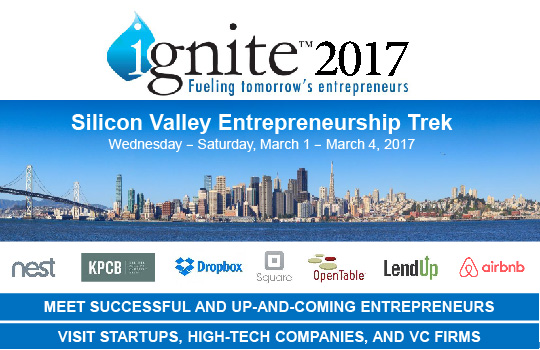 The Ignite Trek provides entrepreneurial students with a chance to meet some of the most successful and up-and-coming entrepreneurs in Silicon Valley. Students will hear the personal stories of entrepreneurs working to build their companies and learn from the successes (and failures) of the best-and-brightest that Silicon Valley has to offer. This is an intense immersion experience with company visits and entrepreneurial speakers throughout the trek. Previous site visits include Open Table, Square, Dropbox and KPCB.
Ignite Trek Schedule:
Day 1: Wednesday, March 2 - Travel day & Opening reception (6:00pm at UC Davis Campus)
Day 2: Thursday, March 3 - Field trips to Start-ups/High-tech companies/VC firms
Day 3: Friday, March 4 - Entrepreneurial Guest Speakers (UC Davis Campus)
Day 4: Saturday, March 5 - Entrepreneurial Guest Speakers (UC Davis Campus). Closing dinner.
We require all Ignite participants to participate fully in all Ignite activities from March 2-5, 2016.