RCEL Ethics and Leadership Panel
April 3 @ 6:30 PM

-

7:30 PM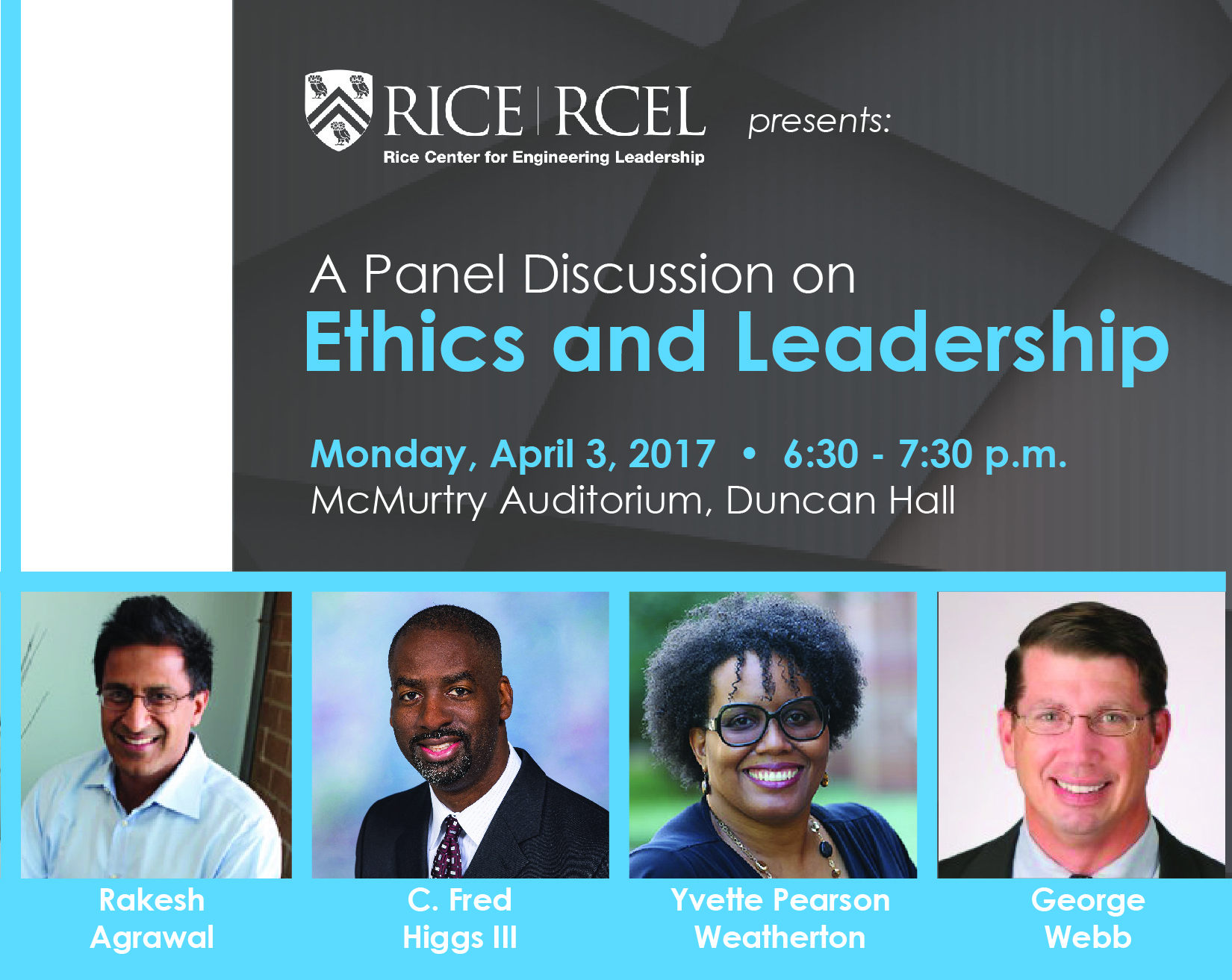 Join RCEL and a special guest panel to discuss the role of ethics and leadership for engineers in the real world, how these ideals affect engineers decisions and innovations. Attendees will be able to ask questions of the panel and participate in the discussion.
Panelist include:
Rakesh Agrawal
Founder and CEO of SnapStream
Rakesh Agrawal is the founder and CEO of SnapStream, makers of TV search and TV-to-Twitter-and-Facebook software. The software is used by the Daily Show, John Oliver and a few hundred other organizations to record and search television. At SnapStream, Rakesh oversees the software company's strategy, innovation and operations. He is also an investor in 60+ early stage companies and a limited partner in few venture capital funds. Rakesh received Bachelor's degrees in Computer Science and Mechanical Engineering at Rice University.
C. Fred Higgs, III, Ph.D.
John & Ann Doerr Professor of Mechanical Engineering
Faculty Director of the Rice Center for Engineering Leadership
A Fellow of the American Society of Mechanical Engineers (ASME), Professor Higgs is a past recipient of a NSF CAREER award, the ASME Burt L. Newkirk award (for an individual under age 40 who made notable Tribology R&D contributions), and the Benjamin Richard Teare Teaching Award from Carnegie Melon University. Since 2004, Professor Higgs has published over 100 archival papers while serving as research advisor to over 100 undergraduate, 30 masters, and 12 doctoral students. He is the co-founder and Chief Technology Officer of InnovAlgae, a technology start-up company that bio-manufactures algae-based consumer goods and products.
Yvette Pearson Weatherton, Ph.D., P.E., F.ASCE
Associate Dean for Accreditation and Assessment in the George R. Brown School of Engineering
A Fellow of the American Society of Civil Engineers, Dr. Pearson Weatherton is widely recognized for more than two decades of contributions to engineering education and research. Among her numerous teaching honors are UT Arlington's Provost's Award for Excellence in Teaching (two-time recipient), the University of Texas System-wide Regents' Outstanding Teaching Award, and, in 2013, recognition as one of the Top 25 Women Professors in Texas. Immediately prior to joining Rice, Dr. Pearson Weatherton served as a Program Director in the Division of Undergraduate Education at the National Science Foundation, where she managed a roughly $70 million portfolio of education research and development awards. She is a registered Professional Engineer in Louisiana and serves as a Program Evaluator for the Engineering Accreditation Commission of ABET.
George Webb
Director of Industry Relations, George R. Brown School of Engineering
George Webb is the Director of Industry Relations for the School of Engineering, where he works to bring industrial research funding to Rice, help with internships, act as a liaison with the Office of Technology Transfer and manage conflict of interests.  A former Intellectual Property Attorney at Farney Daniels, P.C. - Houston, George served as counsel in a wide range of technology matters, including patent infringement lawsuits throughout the United States. He completed multiple patent trials and was responsible for significant portions of many other cases, including development of non-infringement and invalidity positions, selection of and liaison with experts, preparation of expert reports, discovery practice, taking and defending depositions, motion practice, and negotiating licenses. George holds bachelor's and master's degrees in electrical engineering from Rice University. After earning his law degree at Tulane Law School, George worked in private business and at Rice University for several years before launching his legal career.