ENGI 242/542: Communication for Engineers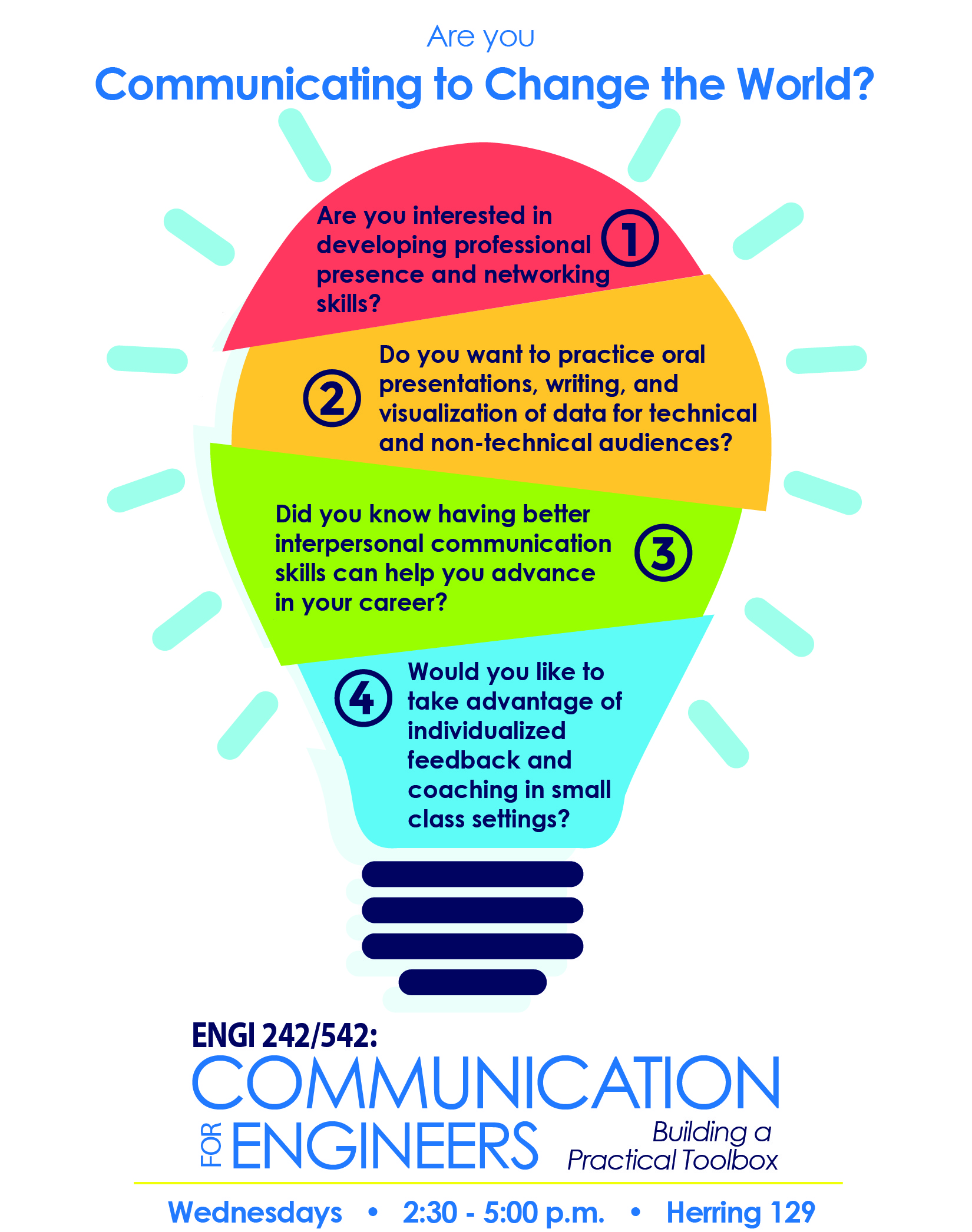 What students are saying...
"This class is the perfect survey of communication topics for an engineer. I've gone from dreading presentations to looking forward to them. I would take a second semester of it if it were offered."
– Sophomore, Computer Science Student
"I would highly recommend this course!!! It is the most useful and applicable course that I have taken at Rice. Because of the small class size, you got a lot of attention and great feedback. Everything is personalized."
– Junior, Mechanical Engineering Student
"I would definitely recommend this course to other engineers. You learn valuable skills that you aren't going to get any other time during an undergrad engineering education. The workload is really light, so it's not hard to tack on to a semester...  I would recommend finding the time to take this."
– Junior, Biomedical Student
"This was one of the most interesting courses that I've taken at Rice in that it addresses aspects of communication that people don't always consider but end up making a big difference when all added together.  I will definitely be taking the skills in class and applying them to all aspects of communication in my last semester here at Rice."
– Senior, Biological Sciences Student
ENGI 242/542: Communication for Engineers focuses on communicating technical information to a variety of engineering and non-engineering audiences.  This highly interactive class will help you:
Gain confidence as a communicator
Practice oral presentations, writing, and visualization of data
Communicate with engineering & non-engineering audiences
Develop networking skills and professional presence
Boost your business-related interpersonal skills
Learn through interactive exercises, improvisation, impromptu presentations, guest speakers, and individual coaching in a small class setting
For the Fall 2017 semester, ENGI 242/542 is being offered on Wednesdays from 2:30 p.m. - 5:00 p.m. in Herring 129.  (ENGI 242/542 is a free elective; it is not a required RCEL certificate course.)
Any questions, please contact Beth O'Sullivan at betho@rice.edu.